This area describes how a user will search for a form within the system. Forms can be located by searching for a form using the Form Finder tool and then selecting the form from the Recommended Forms links.
The search tool provided allows you to either search for a specific keyword, or a natural language search in which you type in the activity that you are trying to do and it will attempt to identify the form you are looking for.
| | |
| --- | --- |
| | Example of a natural language search: I need a form for Drinking Water Eligibility |
Steps:
1. Click on the Finder link in the header.

2. Type in keywords you would like to use to identify the appropriate form(s) (example: wind power, wind, offshore) or describe the activity you would like to perform.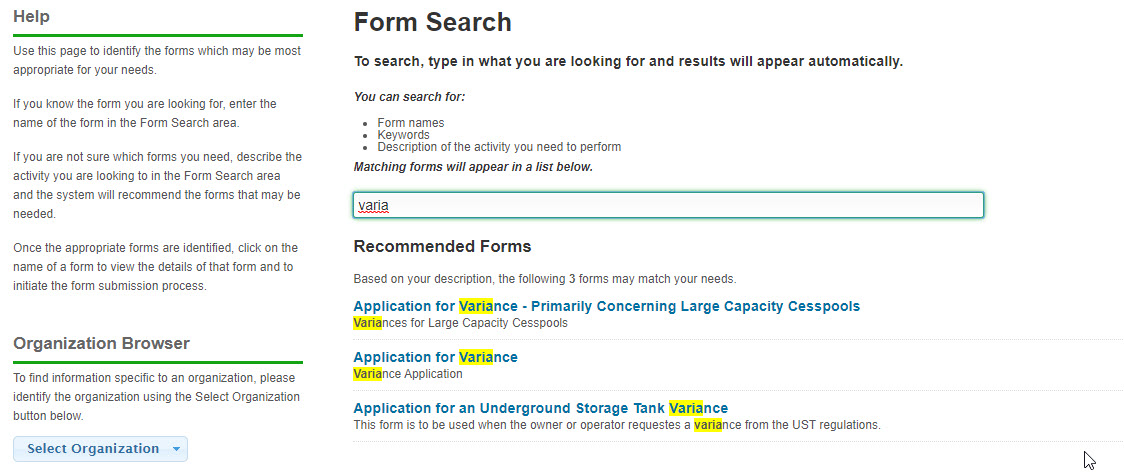 3. Potential matches will begin to appear under the Recommended Forms heading. The forms will be ordered based on applicability to your provided keywords or the activity you described.
4. Click on the form name link for the form that best matches your needs. Please review the summary of each returned forms to ensure relevance to your specific needs.